Transform your kitchen into a beautiful, functional space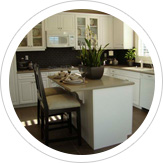 Restyle Your Kitchen Cabinets
If you want to simply update the look of your cabinets, refacing is the affordable option that breathes new life into your existing cabinets.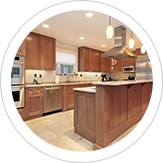 Replace Your Kitchen Cabinets
If you want to completely replace your cabinets, you pick the color and style and we'll create brand new custom cabinets.
 Take $500 off your price AND no interest for 12 months!
You'll Love Coming Home
Our family owned and operated company has provided home remodeling services in Northeast Ohio since 1967. You can be confident that we have the experience and the expertise needed to update your kitchen and that the entire Thiel's team will provide your family with the level of customer care you deserve. Allow us to transform your impractical or outdated kitchen into a beautiful, functional space. We will breathe new life into your existing cabinets by refacing the doors and drawer fronts or our craftsmen can build custom kitchen cabinets to completely replace what you currently have.
"I feel as if dealing directly with the manufacturer, our price was much lower than I thought it would be. My overall experience with the company was wonderful. Everybody was on time. Everybody was very personable." Sue K. Beachwood, Ohio
"I feel like I've moved to a new home. My kitchen was very dark with walnut cabinets, but now I love my kitchen and I spend probably 75% of my time in my kitchen. It's just a much nicer, happier place to be." JoAnn S. Independence, Ohio